Whole-Home Renovation in Delaware County
The answer is clear – Wenger Contracting. From kitchens to bathrooms, from rec rooms to the bedrooms and the hall in between, Wenger Contracting is your complete Delaware, Pennsylvania, remodeling services contractor. Our team will create a whole house renovation design that will make you love every part of your house again. We also offer services in parts of Chester County, PA.
What We Offer
All our work begins with a plan. As a Design to Build company, we provide complete architectural design. We create a functional architectural design plan that takes into consideration your budget, preferences, and individual needs. This allows you to visualize the proposed project better and make an informed decision. And if you proceed and use Wenger for the work, we will apply the cost of the plan toward the total project.
Our commitment to detail continues once we begin construction. Our carpenters provide superior quality and use only the best materials. Our satisfied clients will tell you — we've earned their respect for quality craftsmanship and ultimately satisfy their remodeling needs. That may explain why a large portion of our business comes from repeat customers and referrals. Email or call for more information – we'd be happy to supply you with a list of satisfied customers, and you can also check out our reviews online. As a 5-star, A-rated, award-winning contractor, we bring a professional skill level to every part of your home's renovation.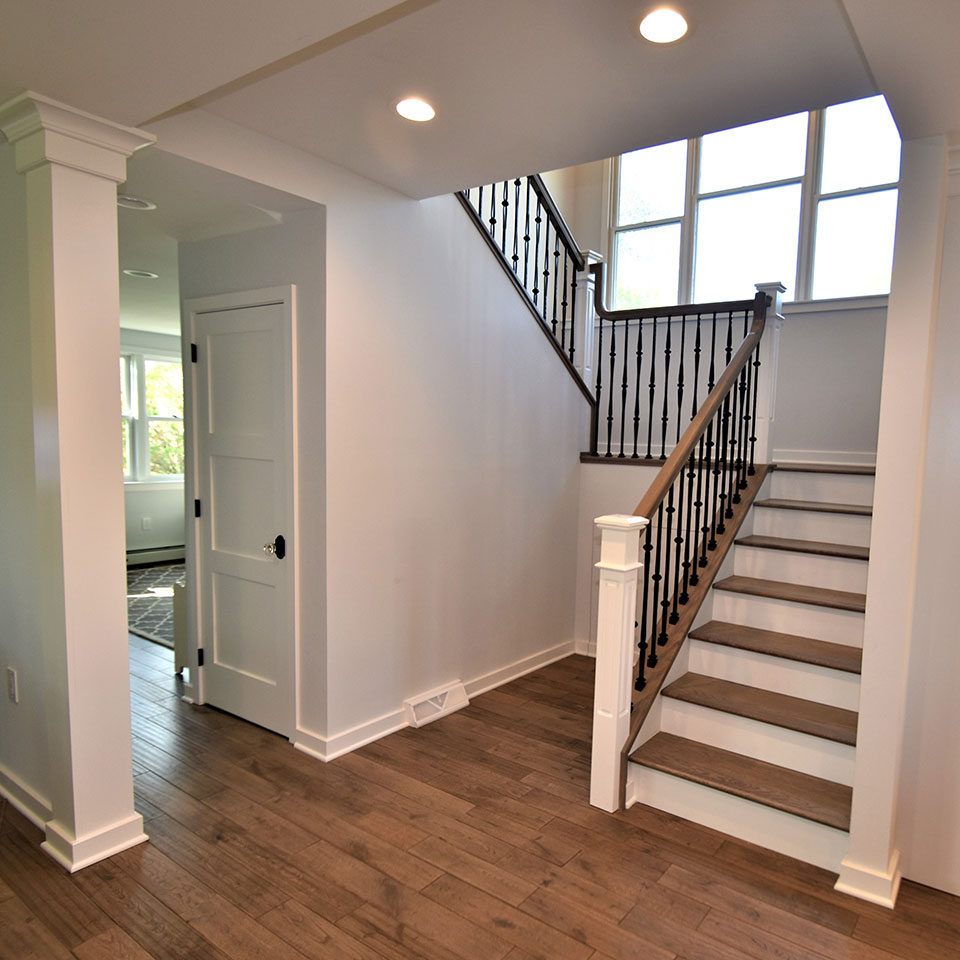 Our extensive remodeling services include the following services and much more:
Flooring

Tile Work

Windows & Doors

Millwork

Installation of Appliances
Make a Smart Investment
With a total home remodel, you make a significant investment in your home. The decisions you make now can affect both your family's enjoyment of the home and your financial future. And if you are living in the home during at least part of the construction, your family's daily life will be impacted then too. Make sure you invest your money wisely and get the best value for the price and the most reliable, professional contractors.
Q: Does the contractor guarantee the work, and how long does the warranty last?
A: At Wenger Contracting, we stand behind all our work with a no-hassle, one-year warranty. As a local, family-owned contractor from the Chester Heights area, our customers are our neighbors, and we want them to know they can depend on us.
Q: Is the company licensed and insured, and are the employees covered by workman's compensation?
A: Wenger is fully licensed and insured, and our employees are all covered by workman's compensation.
Q: Do the contractors have experience in the specific type of construction you need, or will most of the work be subcontracted?
A: With 32 years of total home remodeling experience, Wenger can tackle your job from start to finish, in every room of your house, and assure that the results will be high-quality professional work.
Q: Can the contractor work around your schedule and living needs?
A: At Wenger, we understand that the rest of your life is still happening. Whether we need to close off and work on one area at a time or develop a schedule that lets you live offsite for part or all of the renovation, we'll work with you to keep life going smoothly.
Q: Will the builder provide references?
A: At Wenger, word of mouth from satisfied customers drives the bulk of our business. We'll gladly provide references, and you can see what our customers have to say about us online – We have 5-Star reviews on Houzz and an A rating on Angie's List. And our portfolio contains a full gallery of our past work.
Why Choose Us?
Our professional, high-quality contracting team is the choice you need for a major home overhaul. Wenger Contracting has 32 years of experience in home remodeling services and provides superior craftsmanship, from the basic structure to the fine finishing details. We are licensed, fully insured, and carry workman's compensation. Our clients rate us 5-star on Houzz, and we were a Best of Houzz winner three years in a row. We have an A Rating on Angie's list and are award-winning members of the National Association of the Remodeling Industry. And we will work with you to complete the work as conveniently as possible for your schedule and living arrangements.
Plus, Wenger Contracting stands behind our whole house renovation design services with a no-hassle, one-year warranty. You know the job will be done right because we guarantee it.
For a project this big, you need the pros. You can't take a chance of a fumble when your entire home is involved. Wenger Contracting is the team that can take your project from kick-off to touchdown. Call Wenger today, and we'll make the vision you have for your home a reality.